INTRODUCTION
Kontinental Establishment offers customized Video Wall solutions to ensure best output of your Video Wall. We have a rich portfolio of high performance Video walls, possessing wide range of displays with varying matrix, brightness, grade, contrast, panels, resolutions, aspect ratio sizes, technologies and orientation. Video Wall is also known as Media Wall, Display Wall and Monitor Wall in daily usage. Video wall is the most common name devised commercially as Industry standard representblockade structure with displaying content over it. Video Wall consists of multiple display setups which consist of several LCD/LED display screens tiled together in continual, overlapped or dispersed fashion in order to develop single large screen.
FEATURES
High-quality commercial- and professional-grade digital video wall solutions combined with LED Backlighting, high definition resolution and he ultra-narrow bezels, allow for simple installation and bright, astonishing video walls.
Mosaic/Artistic Video Wall
APPLICATIONS OF VIDEO WALL
•Security & Surveillance •Media House •Digital advertising •Digital bulletin boards •Meeting rooms •Information Display •Conference rooms •Interactive Lecture Halls •Digital menu boards •Public Address •Digital Messaging •Retail Advertisement •Telecommunication
MATRIX OF CONVENTIONAL VIDEO WALL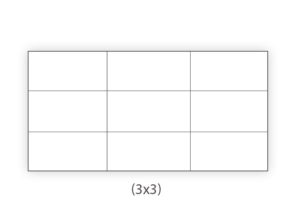 ARTISTIC/MOSAIC VIDEO WALL
INTRODUCTION
Artistic/Mosaic Video walls composed of display arrangement in irregular pattern at different angles without traditional grid or matrix pattern allows rotation to any angle with flexibility.Artistic/Mosaic video walls are the only video wall solution that allows designers to mix-and-match three different LED display tile sizes  (22″, 47″ and 55″) and shapes into unique arrays not possible with regular video walls.
MATRIX OF MOSAIC VIDEOWALL